Papaya eXtreme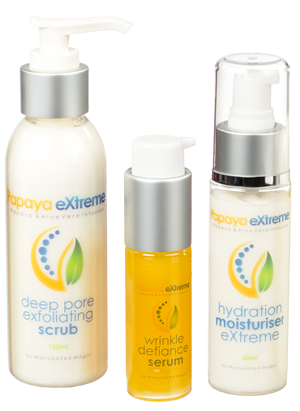 Papaya eXtreme is an exciting, innovative skin care regime.
What do?
Fermented Paw Paw
Aloe Barbadensis Leaf
Coconut Oil
Shea Butter
Grape Seed Oil
& Sweet Almond Oil all have in common?
They're some of the all-star natural ingredients contained within our Australian made Papaya Trio.
The positive synergistic effect can be amazing.
Let's take a closer look...
1. Deep Pore Exfoliating Scrub - 125ml
A rich, lush, creamy scrub experience that will leave your skin tantalised.
This luxurious Exfoliating Scrub has been specifically designed to:
Reach deep into your pores to extract and release trapped impurities and toxins
Prepare the way for your sumptuous new look by exfoliating lifeless, dull skin
Cleanse, tone and balance your skin so it's ready to take the next all-important step
Getting the foundation right was imperative... We left no stone unturned.
2. Papaya Intensive Serum - 30ml
Next, high concentrations of fermented papaya carried by the unique dispersing and penetrating properties of coconut oil enrich, tighten and rejuvenate.
Firm up your skin, enhance its flexibility and marginalise that leathery feel
Declare war on lines, wrinkles, folds, blemishes, discolorations, sagging and opened pores
Combined with Aloe Vera, it's remarkable.
Use sparingly.
3. Hydration Moisturiser eXtreme - 60ml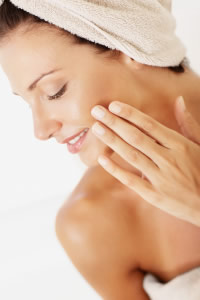 This hydration moisturiser is a pleasure to apply and helps to seal in the natural goodness of the various other ingredients.
Evens out and regulates skin tone for a more supple feel
Promotes a more natural, radiant glow
Fosters an environment that's conducive to healthier skin regrowth
The subtle yet invigorating scent of papaya is fresh and inviting.
Suits ALL skin types & ages
Papaya eXtreme is hypoallergenic. Reactions are all but nonexistent.
A single Papaya eXtreme trio set can last up to 90 days!
We're so confident in Papaya eXtreme we offer a strong guarantee. If you find that results aren't as expected, simply take advantage of our 30 day money back guarantee and we'll refund your money.