Manuka Honey Skin Care
Looking for a stunning anti-aging regime?
Want to resolve problem skin conditions fast?
Ready to glow with natural beauty?
The ManukaGOLD™ 800+ MGO Active New Zealand Manuka Honey & Seaweed Infusion works wonders.
Here's how...
Each ManukaGOLD™ product in our manuka honey skin care regime lays a foundation upon which the next builds.
Used daily, the net result is beautiful, glowing, healthy skin in record time.
Introducing...
1. Revita-Cleanse™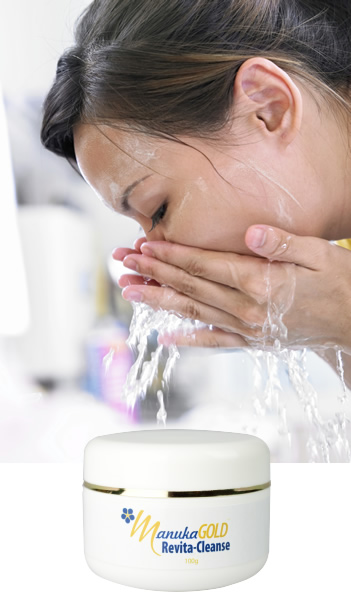 Are you ready to strip back your old look?
This deep-cleansing exfoliator sloughs away dead surface layer skin cells.
At first, our proprietary blend of manuka honey powder and coconut sugar crystals, 800+ MGO Active New Zealand Manuka Honey, seaweed and vitamins infused in kiwi seed oil work the outer layer of your skin.
After adding a small amount of water, the crystals break down and the scrub becomes a cleanser. It's a revolutionary two in one product that will unlock your natural beauty like no soap or traditional cleanser can.
Are you ready for more youthful, healthier-looking, silky smooth skin?
Could you do with skin that looks fresh and alive?
Results
Exfoliates dead skin cells that make skin look dull
Stimulates blood circulation and hence healthy skin cell growth
Improves cell turn over assisting future skin regeneration
Removes debris, sebum and unblocks pores
Allows your skin to breathe more freely
Replenishes lost minerals
Softer skin
Next, the non-surgical lifting mask within our manuka honey skin care regime works it's magic!
2. Rejuva-Lift™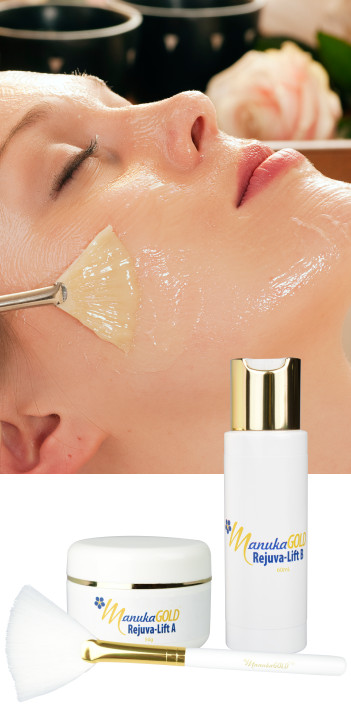 Looking for that healthy, fresh look?
Containing sea kelp and algae, this state of the art skin clarification mask has an intense drawing affect on toxins in the skin.
With unique absorption properties, it seeks out and connects to dirt, toxins and trapped oil within your pores.
Wiping away, you wipe away the toxins, dead skin cells and bacterial build up buried there.
The nutrients within precious gifts from the sea gently enhanced with high grade 800+ MGO Active New Zealand Manuka Honey deliver a power-packed punch to tired and dull looking skin.
It's an unparalleled purification process that leaves behind a fresh, reinvigorated glow.
Results
Reaches impurities in the deeper layers that other products can't
Removes debris, sebum and unblocks pores
Lifts and firms the skin for a tighter, more youthful complexion
Reduces lines
Visibly firms up wrinkles
Stimulates sluggish circulation
Helps prevent acne breakouts
Calms disturbed and inflamed skin
This vitamin E and C enriched mask is suitable for all skin types and will improve your skins overall tone and texture.... Or your money back.
3. Regen-R8™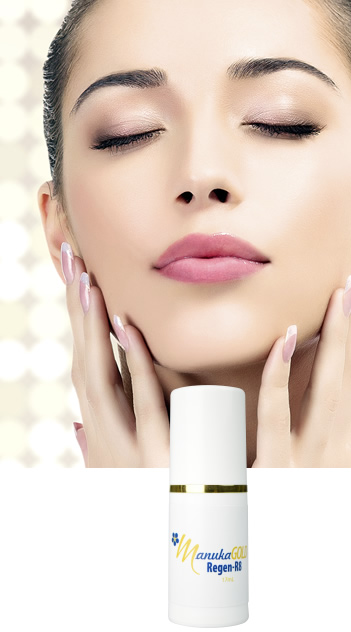 There's nothing wrong with lines creeping up around the corners of your eyes… But if you want to do something about them… You can!
Regen R8, our highly-concentrated expression wrinkle correction serum comprises potent pre and post synaptic correcting peptides specifically designed to undo the over stimulation of facial muscles.
Furthermore, the octapeptides (eight amino acids linked in a polypeptide chain) within Regen R8 are proven to be 30% more effective than Argireline, plus, we've endowed this cutting edge expression wrinkle reducing formula with enhanced collagen and elastin boosting peptides.
To this end we guarantee ManukaGOLD™ Regen R8 to:
Results
Dramatically reduce the depth of wrinkles caused by facial muscle contractions
Unleash huge improvements especially in the forehead and around the eyes in 30 days
Promote your more youthful and fresher look fast
Escape from expression lines now!
4. Replena-Moist™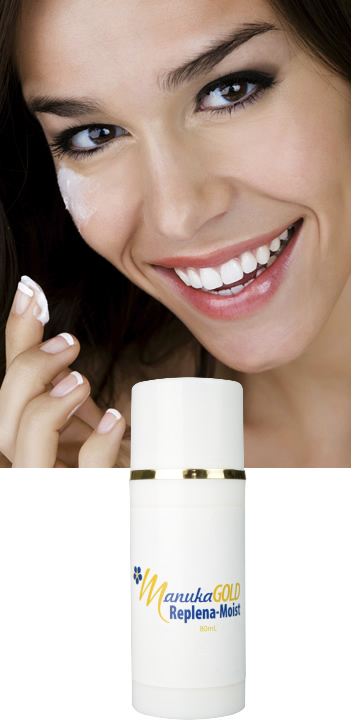 Stressed, tired, overworked, worn out...?
It's a sad fact that what happens on the inside tends to show on the outside.
ManukaGOLD™ manuka honey skin care to the rescue!
Pamper away with this cutting-edge formulation that will invigorate, renew and transform your waning beauty.
It's a deeply hydrating cream and the cornerstone of our patent pending Ultimate 3 Step regime.
It works simply because it doesn't treat just the outermost layer of your skin.
Carried by the penetrating properties of olive squalane, 800+ MGO Active New Zealand Manuka Honey, seaweed and other enriching ingredients are carried to your inner fibroblasts.
This is the birthplace of your new, more youthful, more radiant look.
800+ MGO Active New Zealand Manuka Honey, a humectant has the ability to draw moisture from the air and lock it into skin cells while it nourishes, soothes and heals.
Results
Healthier, nourished skin
Softened aging lines
Increased collagen production
Protection against free radical bombardment
Helps repair damaged skin
Stimulates tissue regrowth involved in the healing process
Reduces acne, blemishes and other skin conditions
Inhibits sunspots and fungal infections